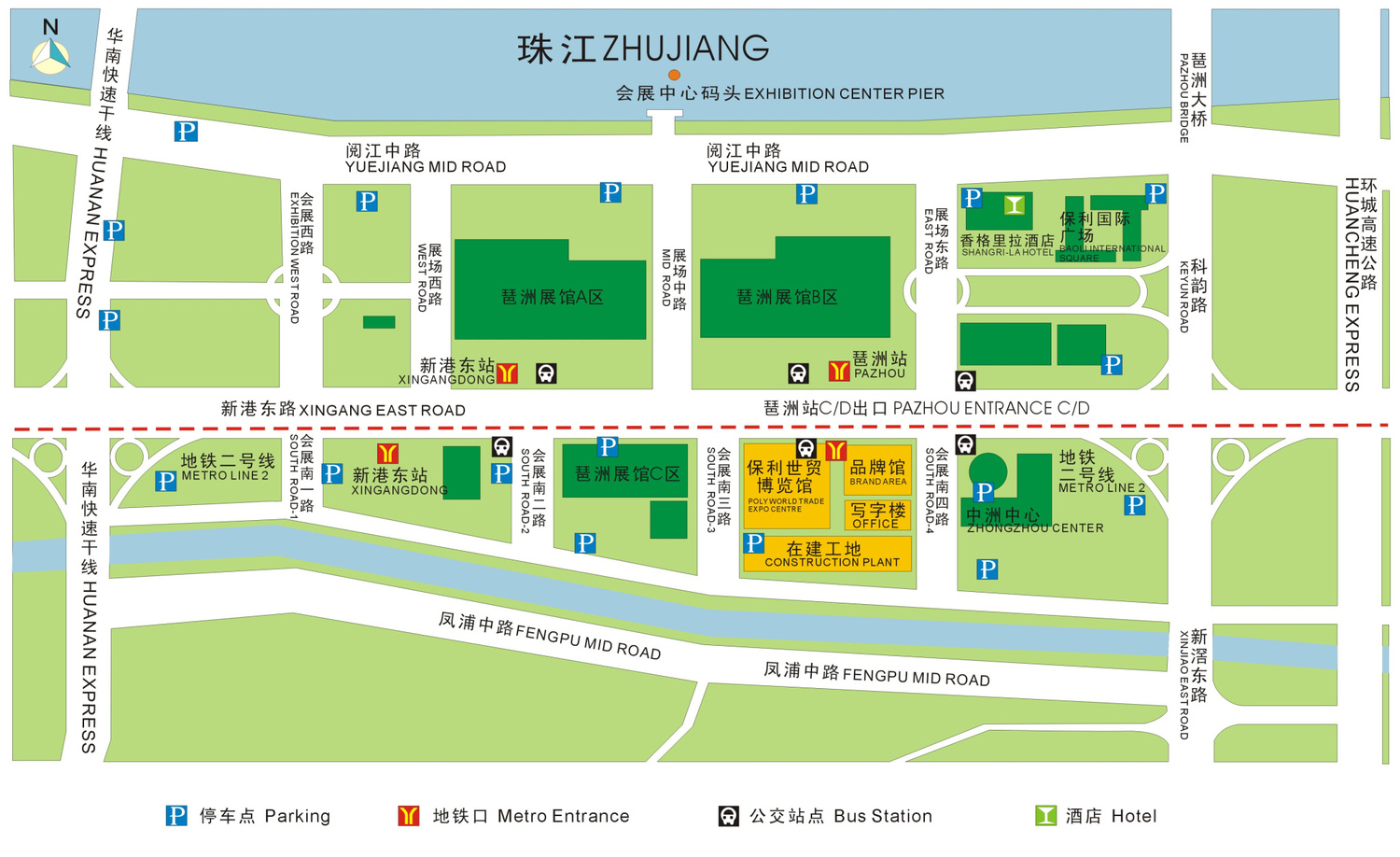 Guangzhou Pazhou Poly World Trade Expo Center is an important supporting subject of Poly World Trade Center. It stands side by side with Poly World Trade Brand Center in the south of Pazhou subway station in Xingang east Road,and it east to Zhongzhou Center and west to the three hall of Guangzhou International Exhibition Center.
The area of Pazhou Poly World Trade Expo Center reaches more than 28,770 square meters and the area of the buildings on the ground is 92,300 square meters. There are 6 standard halls, 12 meters high and 9 meters clear height. Pazhou Poly World Trade Expo Center could provide leased area over 66,000 square meters and 4020 international standard booths. It has such perfect supporting facilities and good load-bearing capacity that it is suitable for holding various exhibitions and activities.
Address:
NO. 1000, Xingang East Road,Haizhu District,Guangzhou City


Location and Transportation
The surrounding suppotring facilities of Poly World Trade Expo Center are completed and the transportation is convenient. The east connects with Pazhou Bridge and Keyun Road, the west connects with South China Expressway, the north and south direction of the two main roads can be connected with Guangzhou Ring Expressway quickly.


Landroute
It costs only 40 minutes directly to Guangzhou New Baiyun International Airport through high way; 25 minutes to Guangzhou railway station, Guangzhou railway east station and Tianhe passengers station. With the Ring Expressway, it can connect the intercity expressway network of Pearl River Delta smoothly ,and get to major cities in the Pearl River Delta, Hong Kong and Macao in two or three hours. It is convenient for passengers and logistics to in and out Guangzhou.


Metro
Pazhou metro station leads directly to B1 of the expo center. Passengers can get to the Registration Counter in B1 of the Expo Center regardless of the weather. It takes just only 20 or 30 minutes for passengers to get to Guangzhou railway station, Guangzhou railway east station and Tianhe passengers station by Metro line 2,3,8. Along the lines, passengers can reach commercial districts , CBD office districts,shopping malls and star hotels in Guangzhou.