Apparel exports fetch $366 mn in India in the July-Dec FY2021-22 period.
Recently published data by Export Promotion Bureau (EPB) revealed that Bangladesh's readymade garment (RMG) exports to India earned $366 million during the July-December period of the current FY2021-2022. Achieving a 58% y-o-y growth compared to the first six months of last FY.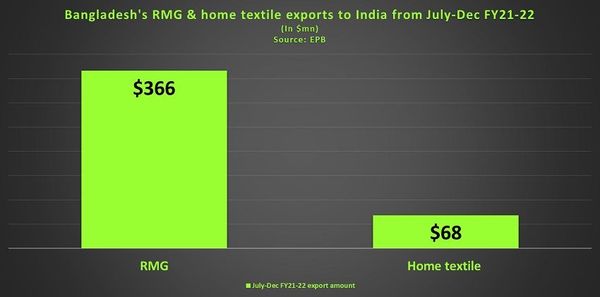 While the apparel export holds a 34.50% growth-share among the country's total $1 billion export figure July-December FY2021-22 period.
While the home textile export fetched $68 million in the July-December FY2021-22 period. Increasing by 30.76 percent.
In FY21, Bangladesh-India bilateral trade stands at $9.87 billion. Bangladesh imported$8.59 billion worth of products in FY21 against $1.28 billion export.
Bangladesh Bank data shows that bilateral trade favors India with a gap of $7.31 billion.
Dominating India's export is cotton. As Bangladesh imported $1.7 billion cotton in 2020.
Bangladesh also imported different types of vehicles worth $588 million, machinery $536 million, cereals $352 million, organic chemicals $289 million, and electrical and electronic equipment $264 million.
Rubana Huq, Ex-BGMEA President said to Textile Today, "Intraregional trade has historically been under 5% for the longest time. Trade picking up within the region signals a tremendous potential for growth. While western countries are opting for onshoring, it's imperative for us to also grow exports with our neighboring countries."
"India is a huge country and we can take advantage of their huge consumer class."
"At the same time, it is also time for competition, meaning collaborative competition. India with its huge backward linkage also could offer us a chance to opt for vertical regional integration. In order words, when the business is booming, who else best to grow with, if not the borders close by?" Rubana Huq added.
Shehrin Salam Oishee, Director, BGMEA & Envoy Group said to Textile Today, "Over the past 2 years, during covid and in its ongoing phase, exploring new markets had been a major concern for Bangladesh RMG. An early bird always catches the worm and we wanted to ace in the race. In search for that, India was a suitable option for us, besides the other new markets being explored ranging from China, Japan, Australia, Brazil etc."
"In all aspects, India has a huge population and their buying capacity is commendable, and increasing every day. Their demand rose over time and this shall be a constant too."
Shehrin Salam added, "Furthermore, keeping the geographical location in mind, our neighbor is probably one of the closest destinations for shipping and that too with a very less lead time in hand. Such a continued trend in export to India shall further strengthen the ties between the two nations and provide more opportunity for Bangladesh to capture the uprising demand for the RMG products amongst the ever-growing population in India."
"Keeping all costs in mind, it will not be wrong to say that India will benefit from our products as a huge cost of freight compared to other exporting nations shall not be incurred in this case. This shall be a sustainable option for Bangladesh and we expect the numbers in export to rise further this year alongside a variety of new products being exported." Shehrin Salam concluded.Sheikh H M Mustafiz, Managing Director, Cute Dress Industry Ltd. said to Textile Today, "It is definitely good news for Bangladesh. It is helping us to reduce the trade balance between these two countries and the demand for Bangladeshi garment in the Indian market surely enrich our competence."
"However, abnormal growth may not always be a good sign. During the pandemic, India was in trouble to execute orders from their buyers."
"I am afraid some part of exported goods to India may have been re-exported to other countries. If not, then it must be a good sign and we have to keep the growth and seek more opportunities in this mass market," Mustafiz added.
BY TEXTILE TODAY