BGMEA President Faruque Hassan has requested the Dhaka Rapid Bus Transit (BRT) authority to manage the construction works of the dedicated bus corridor between Dhaka airport to Gazipur to reduce traffic congestion on the highway and ensure easy and safe travel of garment workers during the Eid-ul-Fitr holidays.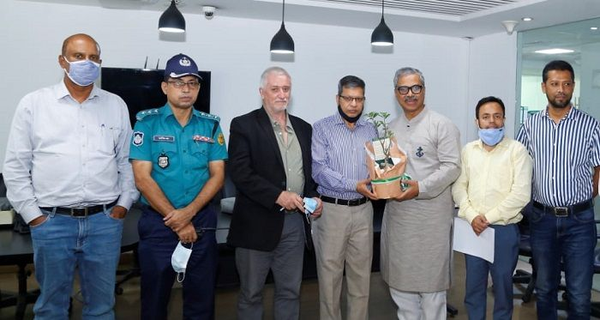 Figure: Faruque Hassan met with BRT Managing Director Safiqul Islam
He also sought the support and cooperation of the government bodies, law enforcement agencies and BRT to keep the highway free from construction materials and makeshift shops and markets as such occupation narrows down the existing road and causes traffic congestion.
He made the call during a meeting with BRT Managing Director Safiqul Islam in Dhaka on April 25.
High officials of BRT authority were also present at the meeting.
BGMEA President Faruque Hassan urged the BRT authority to complete the Bus Rapid Transit project as quick as possible to ease traffic congestion on the Dhaka-Gazipur highway and ensure that commuters can avail the full benefits of the fast, efficient and comfortable mode of transport.
He said a huge number of garment workers will travel from Gazipur and surrounding areas to their villages to enjoy their Eid holidays with their near and dear ones.
It's very important to ensure a hassle-free and safe journey for passengers during the upcoming Eid-ul-Fitr.
The BGMEA President assured the BRT authority of cooperation in raising awareness among garment workers so that they move in an orderly manner during the Eid journey to keep transportation easy for all.
By Textile Today